Clean Teeth Prevention of Bad Breath Healthy Gums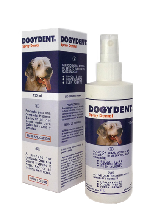 DOGYDENT DENTAL SPRAY
It is presented in polyethylene bottles
125 ml with pump sprayer and cap,
individually packed in a carton box.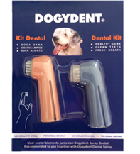 DOGYDENT DENTAL KIT
Presented in a blister-pack containing
two brushes, a blue one for brushing the teeth
and a pink one for massaging the gums.
In the beginning of 2011 we have made changes
in the design and presentation in order to be
more in line with the current trends, always
maintaining the high quality of our products.
Accustom your pet to a daily oral hygiene.
It reduces the risk of periodontal diseases up to 80% . . .
. . . and remember, it is never too late to start . . .

Dogydent Dental Spray may be used as well in cats as in dogs.