OUR PRODUCTS ARE SOLD IN SPAIN BY
VETERINARIES, DOG GROOMERS, PET SHOPS AND INTERNET SHOPS.
If you are interested in buying, distributing in your country,
or simply want more information, samples, etc., please contact us by phone or by E-mail.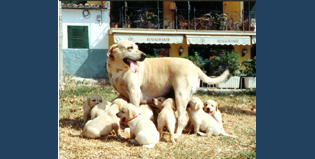 PROBOX MALLORCA, S.L.
C/Francesc Vallduvi 10-D
Pol. Ind. Can Valero
07011 Palma de Mallorca
Baleares - SPAIN

Tel: 0034 669426168
E-mail: info@dogydent.es
We have to take care of them . . . like they care for their puppies . . . and for us !
INTERNET SHOPS IN SPAIN:
www.mascotastore.com www.mascotas.es www.shopmania.es
www.mundo-mascota.com www.eluniversodelperro.com