FINALLY, A SOLUTION FOR A COMPLETE
ORAL AND DENTAL HYGIENE IN PETS.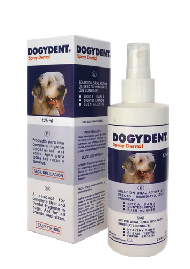 It fights bad breath, disinfects the inside of the
dog's mouth and eliminates the germs that
cause dental plaque.
It is easy to use and makes the job of
maintaining an adequate buccal dental hygiene
in your pet quick and easy with immediate results
and without the need to change the animal's favourite dry food.
The effectiveness of Dogydent has been proved by the Veterinary Department of the University of Zaragoza (Spain) after testing it on dogs and cats of all sizes and breeds.
To the good of all of us ...